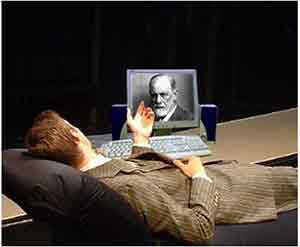 Sometimes it is impossible, terribly inconvenient, or simply not desired, to engage in face-to-face therapy. Through various studies it is being discovered that for some people the most effective form of therapy is through what is referred to as "asynchronous therapy," i.e., email or chat. Online therapy offers just that, as well as webcam, and telephone sessions. This modality of therapy is unique and requires special skills working with these various electronic mediums.
Another great asset to this form of therapy is its ability to dissolve borders and distances. Where ethically and legally appropriate, clients can seek out certain forms of therapy that are not available in their immediate area. In some sections of the Canada, in the USA, and certainly in the world at large, no form of professional psychotherapy is available within a reasonable distance. And in my practice in particular, the specific forms of therapy I offer, such as a special focus on artists and creative types, past life regression therapy, and transpersonal therapy, is not widely available. Online therapy offers the people living in these more remote areas an opportunity to engage in the therapy that I do have to offer.
There are several forms of online therapy. The most simple being a common phone call. I also have available webcam sessions through encrypted Skype connection. In most situations, and with some exceptions, this form of therapy does not differ radically from conventional face-to-face therapy. Most clients find it very comfortable and a reasonable substitution for office visits. The fees and scheduling is also similar to a face to face meeting. You first need to contact me so I can assess if you and your situation is suitable for this style of therapy, then you can schedule just as everyone else schedules during my usual office hours. Payment is a bit different, requiring credit card or interac bank transfer payment directly before the session. No cash or cheque payments can be acceptable.
More radical in nature for many are the asynchronous forms of online therapy such as emailing and chat. Emailing is a very specialized form of therapy, but can be very rewarding and effective. Studies have shown that in certain circumstances email therapy is more than, or at least as, effective as face-to-face therapy. The approach is different and unique, but it has its special rewards and benefits. Please inquire for more information about asynchronistic therapy as the pay scales and appointment scheduling can be different than scheduling and paying for conventional in office sessions. For email therapy I will typically as for an advance payment through Paypal to buy "credits" that are then used in the email exchange.
All sessions, including phone calls, webcam, and emailing, are held to the strictest standards of privacy and confidentiality. There may be some technological requirements of the client such as the procurement of a special encrypted email account or acquiring a Skype account for phone calls.
Online therapy is taking the psychotherapy business by storm. Recently it has become very popular to seek online advice, therapy, counseling, and the like. Sites such as "LivePerson" and "UpWork" have popped up in a big way offering advice, how to's, and expert assistance in a variety of situations, not the least being psychotherapy. The problem with a lot of these sources is that you can't always be sure of the quality of what you are getting. Online therapy should only be procured from licensed or registered therapists and those who have not only been trained and educated in conventional psychotherapy, but also have been made thoroughly aware of the subtleties of online therapy.